There is a moment in the opening montage of Inventing Anna, Netflix's slick new Shonda Rhimes true-crime series, that shows a printing press firing off an article about Anna Delvey (real name Anna Sorokin), the captivating real-life "fake heiress" who scammed millions out of New York's elite in 2017.
The article then morphs into a tweet that is fired off by journalist Vivian Kent (played by Anna Chlumsky, based on New York Magazine writer Jessica Pressler). A rush of hearts, likes and retweets flood the page as the story goes viral.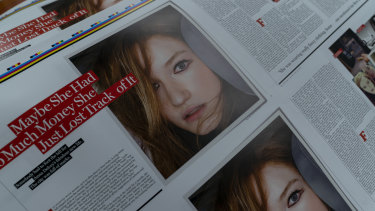 Aside from being a thoroughly modern introduction to a thoroughly modern crime, it is a reminder that the story you're about to watch is very much rooted in the here and now. Inventing Anna is not only based on real events, it's based on recent events.
We only need to wind the clock back four years to find Sorokin carrying out the crimes that are being fictionalised in Inventing Anna. Sorokin masqueraded as Delvey, a wealthy German heiress with a healthy trust fund and went about defrauding banks, scamming friends and skipping out on hotel bills.
She was convicted in 2019 and served two years before being released on good behaviour in February 2021. Following her release, Sorokin was rearrested for having overstayed her visa and has spent the last year in detention, fighting deportation while also working as a paid consultant on Inventing Anna.
The speed at which Sorokin's crimes have been packaged up for TV might seem dizzying but is reflective of the current trend. In the next month, a slew of drama series based on recent events will hit streaming platforms.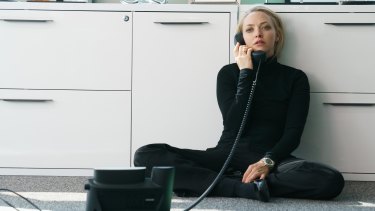 Joe vs Carole (Stan, March 4) revisits the bizarre world of Tiger King with Kate McKinnon playing Carole Baskins, and John Cameron Mitchell as Joe Exotic. The Dropout (Disney +, March 3) charts the rise and fall of Elizabeth Holmes (played by Amanda Seyfried) and her fraudulent company, Theranos, which came undone following a 2015 expose by John Carreyrou of The Wall Street Journal.
WeCrashed (Apple TV, March 18) tackles the 2019 downfall of WeWork co-founder Adam Neumann (Jared Leto), and The Girl From Plainville, (Stan, March 29) is inspired by the true story of Michelle Carter (Elle Fanning) and her infamous "texting suicide" case that captured the world's attention in 2017.
Later this year we will also see Underbelly: Vanishing Act air on Channel Nine (owner of this masthead), a drama based on the alleged crimes of Sydney businesswoman Melissa Caddick, who went missing in late 2020.
Given our insatiable appetite for true crime, the rush to fictionalise contemporary stories might simply be a case of streaming platforms wanting to edge out the competition.
"The truth is often so much stranger than fiction and Australian streaming audiences love true-crime drama," says Stan's chief content officer, Cailah Scobie.
"We've found that combining major talent with these unbelievable stories has proven a winning formula, and we anticipate many more true crime dramas to arrive on Stan as we look to the genre across our Originals commissioning slate."
However, Carolyn Mackay, co-director at Sydney Institute of Criminology, believes this first-in best-dressed approach could backfire. "Viewers struggle to differentiate between the real person and the famous actor they're watching, so it can blur the lines," explains Dr Mackay.
Loading
"Often the crimes are glamorised for the sake of drama, so we might end up seeing these people as hero figures despite their committing reprehensible crimes."
Many of the real-life characters from these stories have already achieved cult status. Despite being found guilty of defrauding investors, Theranos founder Elizabeth Holmes inspired a fan club (the "Holmies") who dress in her signature black turtleneck, or rock T-shirts emblazoned with Elizabeth Holmes is my #GirlBoss. Tiger King's Joe Exotic and Carole Baskin have become household names, not to mention the Halloween outfit of choice for bored celebrities.
Meanwhile, Jared Leto looks more like a rock star than a disgraced CEO in the press snaps for WeCrashed.
Similarly, Inventing Anna has been accused of portraying Sorokin as a sympathetic figure, a kind of real-life Robin Hood who stole from the rich and gave to herself. Rachel Williams, who Sorokin allegedly fleeced for $86,000 in credit card charges, penned a first-person piece for TIME magazine this week titled, Anna 'Delvey' Sorokin Almost Ruined My Life. Now She's Being Rewarded for Her Crimes.
"Millions will watch as Anna is portrayed as a complex anti-heroine fighting against her personal demons and a world that constantly underestimates young women," writes Williams.
"It will be seen by more people than will ever meet Anna or do the work to understand her real nature or what really happened. And that is a dangerous reality."
Sadly, for the real-life victims, it's a reality that we will have to get used to as demand fuels supply, meaning every high-profile downfall or shocking true crime is one pitch away from becoming your next favourite series.
Find out the next TV, streaming series and movies to add to your must-sees. Get The Watchlist delivered every Thursday.