OECD inflation surges to 25-year high
Inflation across the OECD area has hit its highest level in 25 years, as consumers across the world are hit by the cost of living squeeze.
Consumer prices in the 38 richer countries which make up the OECD surged to 5.8% per year in November, the highest since May 1996.
Energy prices were the primary factor, soaring by 27.7% in the OECD area in the year to November. That was a sharp jump on October's 24.3% rate.
Food price inflation in the OECD area jumped to 5.5% per year in November, up from 4.6% in October.
The OECD says:
Excluding food and energy, OECD year-on-year inflation rose more moderately, to 3.8%, compared with 3.5% in October, though it contributed significantly to headline inflation in a number of large economies.
Inflation rose particularly sharply in the US, where the CPI index hit 6.8% in November, the highest in almost 40 years, putting pressure on the US Federal Reserve to raise interest rates several times this year.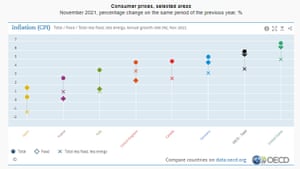 Inflation in Germany rose to 5.2%, a 29-year high — which may have spurred new Bundesbank president Joachim Nagel to call for vigilance about eurozone inflation this morning.
In the UK, CPIH (Consumer Prices Index including owner occupiers' housing) jumped to 4.6%, which is the measure the OECD uses. The CPI index, which is targeted by the Bank of England hit 5.1%, prompting the UK's central bank to raise interest rates last month.
The OECD's 38 members are: Austria, Australia, Belgium, Canada, Chile, Colombia, Costa Rica, Czech Republic, Denmark, Estonia, Finland, France, Germany, Greece, Hungary, Iceland, Ireland, Israel, Italy, Japan, Korea, Latvia, Lithuania, Luxembourg, Mexico, the Netherlands, New Zealand, Norway, Poland, Portugal, Slovak Republic, Slovenia, Spain, Sweden, Switzerland, Turkey, the United Kingdom and the United States.
Updated