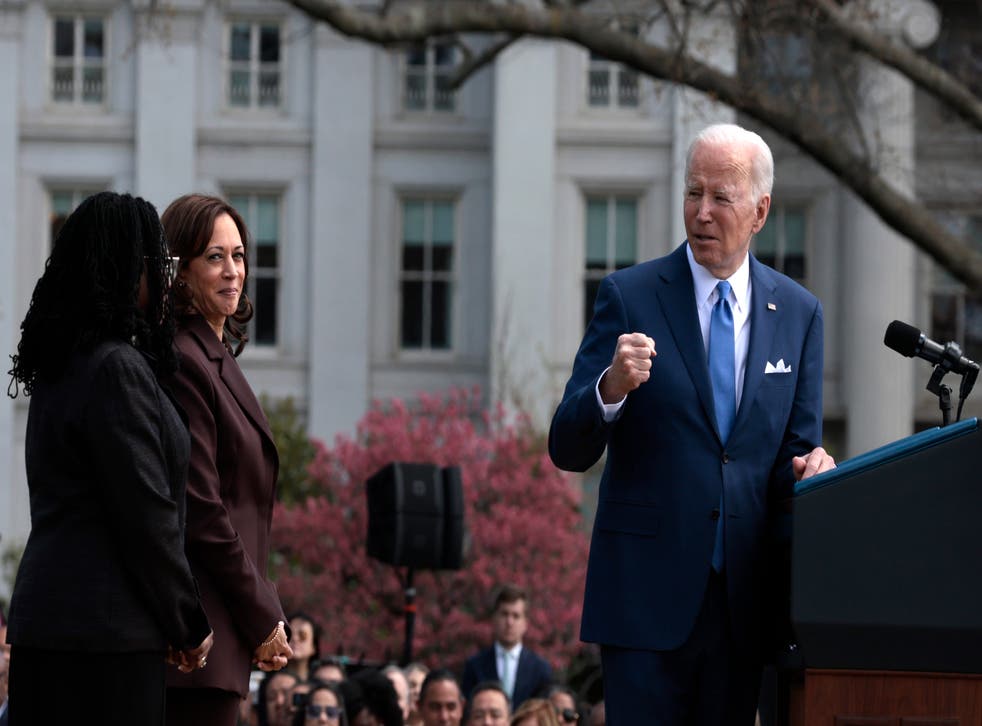 President Joe Biden is expected to announce new gun regulations on Monday to rein in so-called "ghost guns" — privately made firearms without serial numbers that have been used in several high-profile violent crimes.
Mr Biden is expected to nominate Steve Dettlebach, an Obama-era US attorney, to run the Bureau of Alcohol, Tobacco, Firearms and Explosives, people familiar with the matter told the Associated Press.
After his Supreme Court pick Ketanji Brown Jackson's successful appointment as the first Black woman justice, the confirmation of Mr Dettlebach is expected to be an uphill battle.
Meanwhile, White House press secretary Jen Psaki went on the offensive on Sunday, accusing Republicans of holding federal Covid-19 response funding "hostage" on what many consider to be the GOP's home turf.
"Title 42 is not an immigration plan or an immigration authority. No one in the administration thinks that. It's an authority given to the CDC actually by Congress," Ms Psaki said.
And national security adviser Jake Sullivan has said the US will "not hesitate" to expel additional Russian diplomats from the country for suspected espionage.
1649654850
Biden to meet Indian PM Modi virtually as US presses for hard line on Russia
Joe Biden will hold a virtual meeting with Indian prime minister Narendra Modi on Monday as Washington is pressing world leaders to take a harder line on Russia.
The White House said that the two will discuss "ending the Covid-19 pandemic, countering the climate crisis, strengthening the global economy, and upholding a free, open, rules-based international order to bolster security, democracy, and prosperity in the Indo-Pacific".
"President Biden will continue our close consultations on the consequences of Russia's brutal war against Ukraine and mitigating its destabilising impact on global food supply and commodity markets," it added.
The meeting precedes a ministerial summit between the US's secretary of state Antony Blinken and secretary of defence Lloyd Austin, and India's external affairs minister Subrahmanyam Jaishankar and defence minister Rajnath Singh, in Washington. That meeting begins today and will continue for five days.
Shweta Sharma11 April 2022 06:27
1649653045
Biden to nominate Obama-era US attorney to lead ATF
Joe Biden is expected to nominate Steve Dettlebach, who served as a US attorney in Ohio from 2009 to 2016, to lead the Bureau of Alcohol, Tobacco, Firearms and Explosives, six people familiar with the matter told The Associated Press.
The administration will be responsible for releasing the finalised version of regulations against so-called ghost guns, privately made firearms without serial numbers that are increasingly cropping up at crime scenes.
This comes as the White House and the Justice Department have been under growing pressure to crack down on gun deaths and violent crime in the US.
Mr Dettlebach's confirmation is likely to be an uphill battle for the Biden administration, however, with Mr Biden already forced to withdraw the nomination of his first ATF pick, gun-control advocate David Chipman, amid Republican opposition.
The process to get nominees for the ATF has remained politically fraught with Republican and Democratic administrations failing to reach an understanding since the director's position was made confirmable in 2006.
Shweta Sharma11 April 2022 05:57
1649650631
Welcome to the Independent's coverage of President Joe Biden on Monday
Shweta Sharma11 April 2022 05:17